Women I (NLD)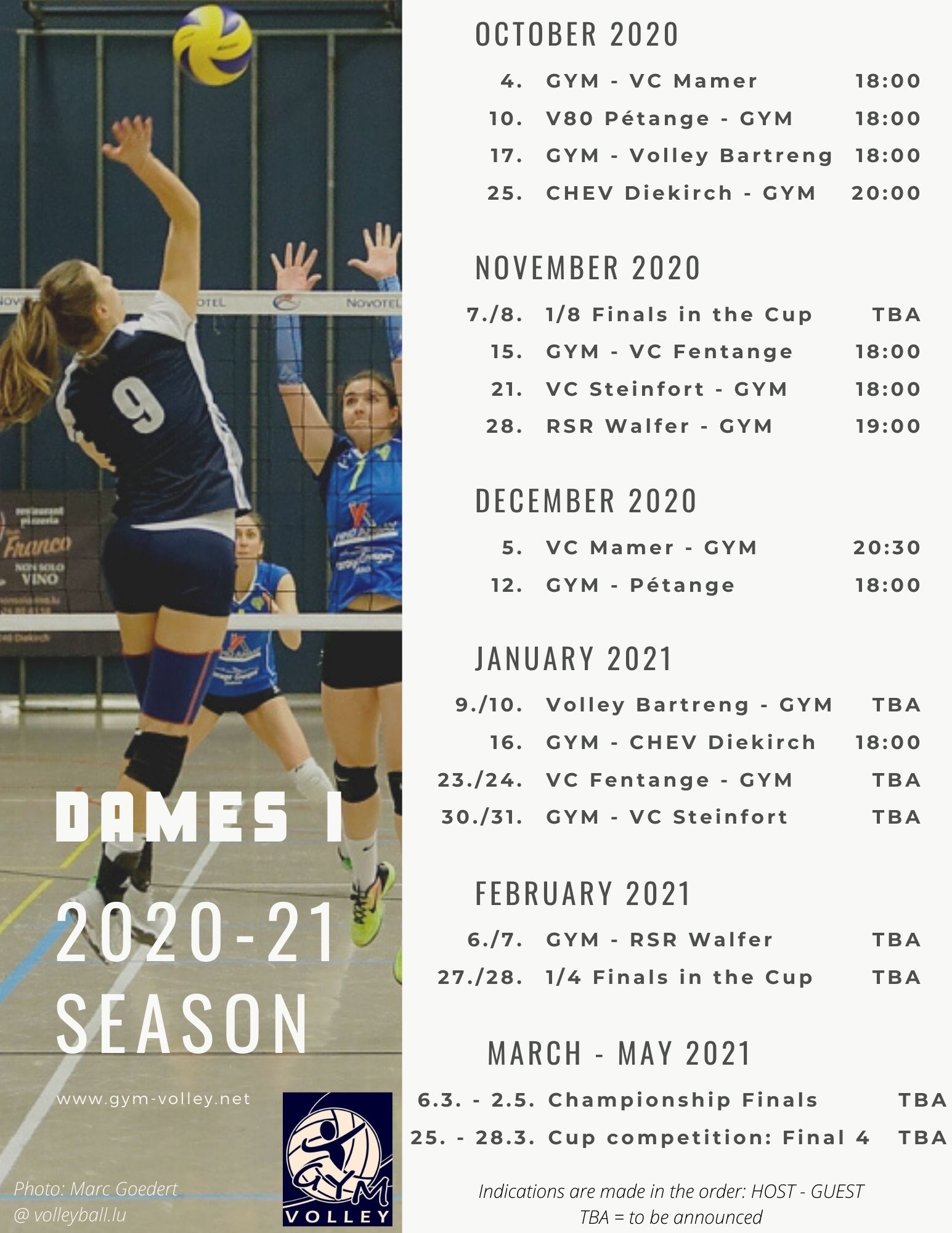 Women II (2nd League)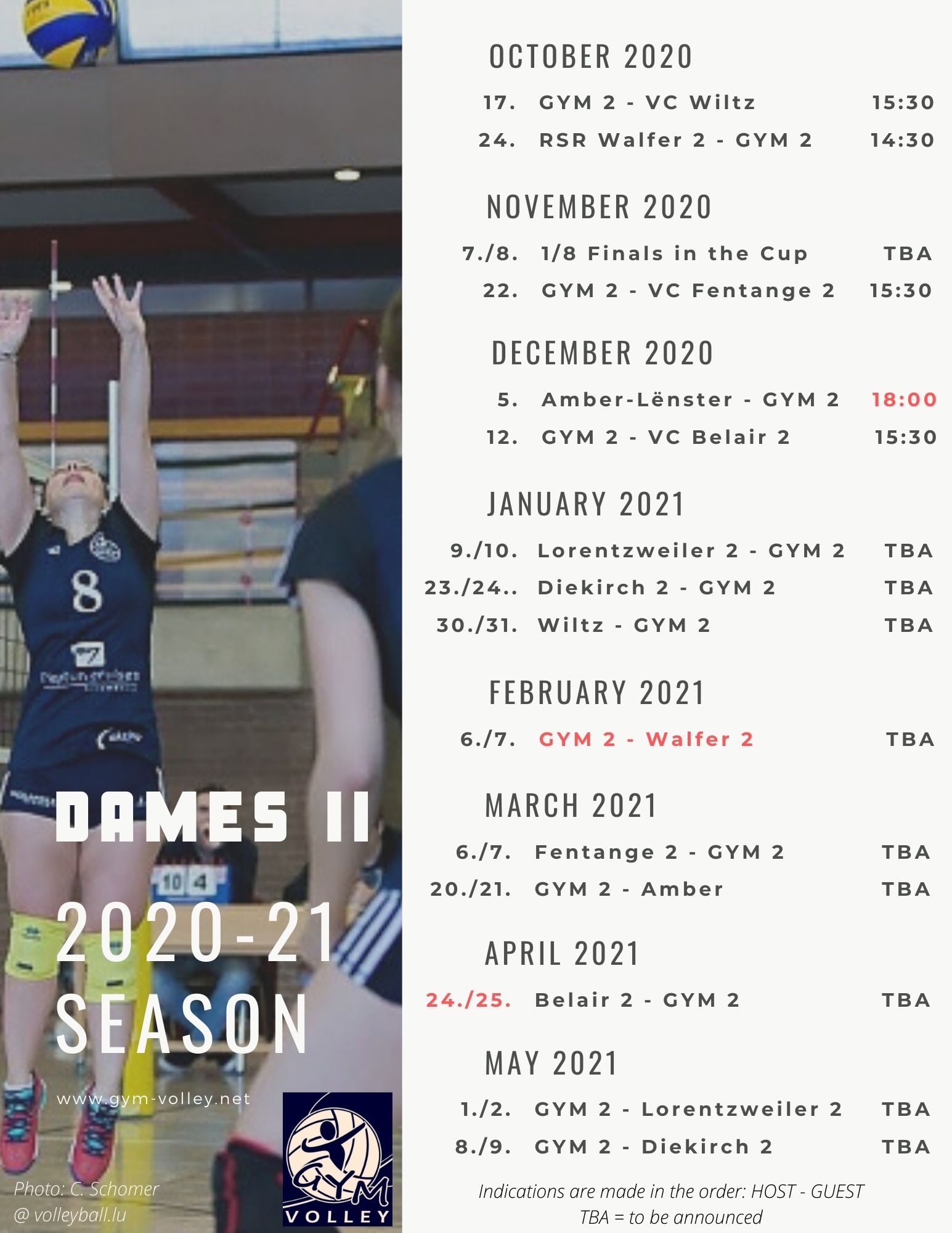 Youth teams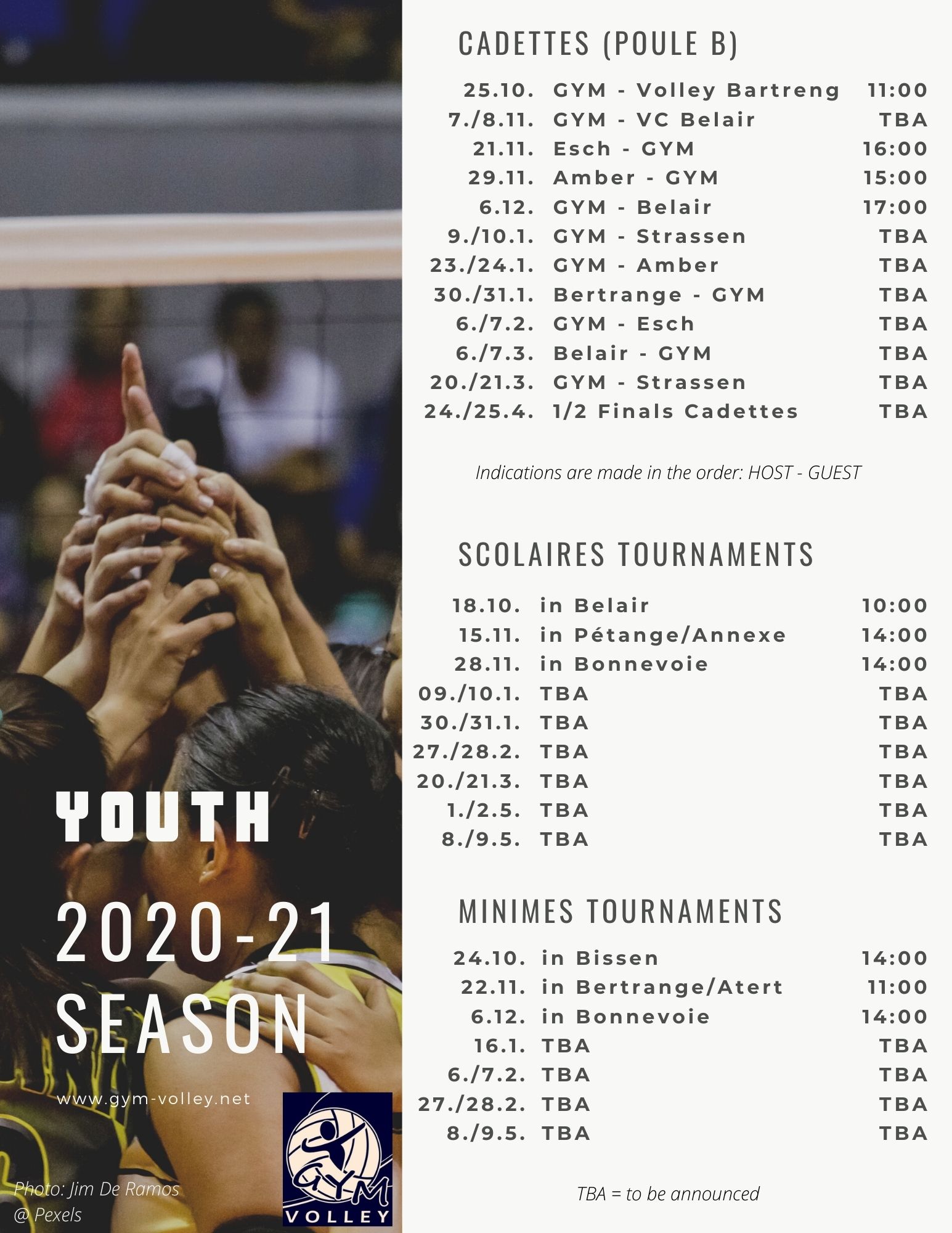 Source: flvb.lu
skl!
The Luxembourg Volleyball Federation (FLVB) has decided to end the season immediately due to the spread of the coronavirus on 12 March 2020. This decision was without alternative for the protection of all in order to be able to cope with the acute situation. Health is the highest good, protecting it has the top priority.
The GYM-Volley would like to thank all its sponsors, fans and volunteers for their support and hopes to see you all back in the hall safe and sound soon!
Regarding the outcome of the 2019/20 season, the FLVB has decided as follows:
In the Novotel league of women's and men's teams, the rankings are determined and validated at the "end" of the first and second round (as of 12.03.2020).
For the 1st, 2nd and 3rd league of women's and men's teams, the games played up to 12.03.2020 will be taken into account in determining the final ranking (coefficient of points scored per game).
For the youth teams (minimes, cadettes and juniors) there will be no ranking for the season 2019/21.
Promotion and relegation
NLD: No team will be relegated, because the 8th place is not occupied. The playoff game for the 7th place will be exceptionally cancelled due to the circumstances of COVID-19.
D1D: The team VC Fentange, which ranks 2nd in the 1st league, will be promoted to the Novotel league. The CHEV Diekirch 2 relegates to the 2nd league.
D2D: The teams Escher VBC and VC Mamer 2 will advance to the 1st league. The teams RSR Walfer 2 and VC Lorentzweiler 2 will relegate to the 3rd league.
D3D: The teams VC St. Wiltz and Volley Bartreng 3 will move up to the 2nd league.
The composition of the lower leagues may change depending on the number of teams registered as of 20 June 2020.
The youth divisions will be composed on the basis of the teams registered on 20 June 2020 for the season 2020/21.
There is no Luxembourg Cup classification for this season.
The organisation of the Final 4 of the next season will be attributed to VC Lorentzweiler.
The preparations for next season have started and we will keep you informed about training times, the schedule for the 2020/21 season and other notifications from the Ministry of Health and Sports as well as the FLVB.
Thanks again for the great (half) season and see you soon!
Your Team GYM